12x Telephoto Zoom Lenses Kit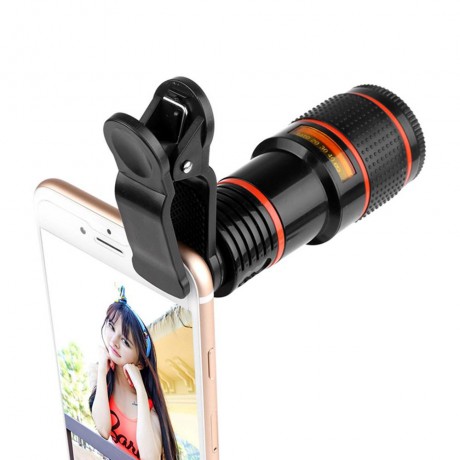 Do you love taking stolen shots of your family, friends and pets, most especially your children? With our 12x Telephoto Zoom Lenses Kit, you can capture candid moments while your friends or children are none the wiser. Just casually sit back at a social gathering and snap away. As long as you don't have to use a flash, most people won't know they are being photographed.

Features:

Superb Quality Design- The lens is made of an optical glass with multi-layers coating to give us a realistic scene. The product is crafted with high quality ABS material to keep it lightweight.
Accurate Optical Path Length- Comparing to the telephoto lens from others, our lens obviously is better due to the accurate design of optical path length. The photos will show less distortion, therefore the image will become more real and vivid.
Multifunction Lenses- The 12x telephoto lens does a great job at optically magnifying the image by 12 times but with no image degradation. Try with the tripod and you will find new shooting experience. Wide angle lens and macro lens are screwed together upon arrival. The 180-degree fisheye lens offers customer a view like via fisheye, which makes the picture appears to be more interesting.
Easy Usage- For small camera lenses like wide angle lens, fisheye lens or macro lens, it will be okay for you to use only small clip. For telephoto lens, due to its heavier weight, a big clip will be preferred. Big clip can be attached to the phone and be locked very firmly so that it will not move when you are fixing the focus. Easy to use and a major difference will be seen in the photos you take when using the lenses.
Compatibility- iPhone and Android smartphones.
Package Inclusion:
12x Telephoto Lens x 1pc
Fish Eye Lens x 1pc
2-in-1 Lens(Wide Angle + Macro Lens) x 1pc
235 degrees Fisheye Lens x 1pc
Selfie Stick Monopod x 1pc
Mini Tripod x 1pc
Lens Cover (plastic) x 4pc
Small Pouch x 1pc